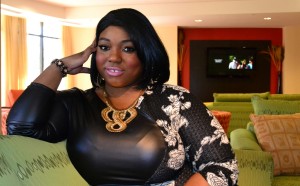 I'esha Hornes also known as I'esha GaptoothDiva on the Internet, is a Motivational Speaker, Writer, Plus Size Model, Media Personality, and Vintage & Thrift Store Boutique Owner. Her passion for individual style, music, and entertainment led her into a career as a self-taught blogger and social media maven. Her goal is to be the "Baddest Creative Motivation" for all those interested in pursuing their dreams without fear of their past or what limit's them currently.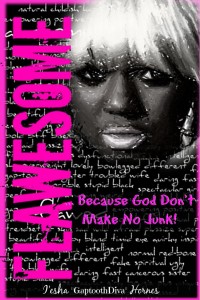 By touching on social issues affecting our community today and sharing candid experiences from her own life as a mother, wife, and entrepreneur, this new Author of "Flawesome … Because God Don't Make No Junk!" knows how limiting beliefs, self-esteem, and fearlessness all play a huge part in growing your business and brand from the bottom with what you already possess… God-given talent.
Through her videos, articles, post, and pictures, I'esha GaptoothDiva infuses her honest opinions with her unique sense of humor in order to show that most often awkward but incredibly sincere side of a perfectly imperfect diva trying to inspire others while making her dreams come true.
Starting her career as an event host in Richmond, Virginia, I'esha GaptoothDiva has been providing an outlet for independent artist to promote their new music and videos on her website, I'esha wanted to show love to those who weren't as well-known but desired to put their message out to the world. With an internet radio show and her blog under her belt, I'esha GaptoothDiva transitioned from just music reviews and interviews into a full lifestyle brand. She had modeled in various shows throughout Virginia in an effort to support the plus-size community while showcasing that full figured women are just as beautiful and stylish as any other model in the world.
I'esha GaptoothDiva shows women how to look amazingly beautiful on a very tight budget. No one says that you have to possess a lot of money to look your best, and most don't even tell you how to look great with barely nothing. It is through her style post and her creative ideas that she shares her thoughts on frugal fashion and sustainable style.
After years of being involved in the social media world, promoting local events, artist, and other business, I'esha GaptoothDiva transformed her brand to promote body positivity and self-esteem, especially among our younger generations. Penning the memoir, Flawesome …Because God Don't Make No Junk!, a book that reflects back on her childhood, the abuse and neglect that she suffered and the decisions that she has made in her life, her goal is to help keep another young person from harming themselves and others because of their lack of self-love. It is with this book that she plans to educate the public that our physical flaws aren't something that need correcting, but our emotional and mental flaws that need healing.
I'esha GaptoothDiva is a multi-talented force to be reckoned with. She continues to motivate others creatively and doesn't plan on stopping anytime soon. Check her out at her official website, http://www.GaptoothDiva.com, where she post articles, interviews, and reviews all related to fashion, music, culture, inspiration, and lifestyle every week.
Connect with I'esha GaptoothDiva…
Follow her on Twitter here (@GaptoothDiva) www.twitter.com/gaptoothdiva
Follow her on Instagram here (@GaptoothDiva) www.instagram.com/gaptoothdiva
"Like" Her Facebook Fan Page here
Subscribe to her GaptoothDiva TV YouTube Channel here (www.youtube.com/gaptoothdiva)