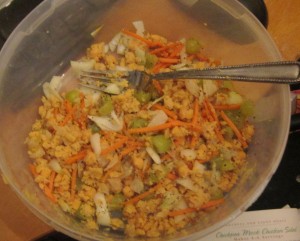 Mock Chicken Salad with raw carrots, onions, chick peas and regular mayo.
First What is Raw Foods?
I was first introduce to raw foods by Jennifer Cornbleet. She was having a teleseminar on Eating Healthy and if it is your passion Do you want to teach or start a business with raw foods?
When people talk about raw foods, they mean food that is not cooked. These foods are nuts, grains, fruits and vegetables. and plant-based oils.
To eat dried beans, nuts and seeds, they are soften with water for 2 to 12 hours depending on what the recipe calls for. Then they are either blend or mix into the dish.
And sometimes the dish is dehydrate which means it goes through a dehydration oven, where water is remove so the dish can become firm. .
People who eat raw food believe they are getting at least 95 to100% of the nutrients from the food. And foods prepared this way can help heal the body.
I am happy to announce Karen Knowler and Russell James are starting a raw food class to each people who want to become Raw Food Teachers
Here is the information Attention raw food fans! The inspirational @KarenKnowler and awesome @RussellJames are joining forces to bring you this ONE TIME ONLY Raw Teacher Training. More details at Raw Food Teacher